Unfortunately the organiser had to cancel this event. Stay tuned for another date later in 2021!
---
Some tips and tools for un(b)locking your creativity, using mindfulness and meditation.
---
Megan Spencer is an experienced media arts professional and a trained mindfulness meditation teacher.
She brings together her unique set of skills to offer a class that explores how mindfulness and meditation can help to take the struggle out of accessing creativity – especially when it feels locked, blocked or out of reach!
During this 3-hour class you will be introduced to mindfulness and meditation, participate in practical exercises, join group discussions, receive a take home Tips sheet and enjoy afternoon tea. Suitable for experienced and beginners alike.
Find the space to pause, breathe and simply be alive – something we all need to stay well, creative and inspired.
---
When: Saturday 27 February, 10.00am – 1.00pm (inc. morning tea break)
Where: Curiosity Cafe, 39 Storey Avenue, Aldinga Beach, SA, 5173. Maps link.
Cost: $85 + booking fee | Bookings: Humanitix

Terms & Conditions: Please read the Ts&Cs before booking (you'll be asked to sign this on arrival).
Organiser: This event is offered by Fresh Ginger Creative as part of an ongoing series of creative workshops near Adelaide. The event will be run with a COVID-safe Plan. Participants will be asked to check-in on entry and practice physical distancing, hand hygiene and safe food handling. Please do not attend if you're unwell, have been near any 'hot spots' or awaiting the result of a COVID test. Thank you for understanding!
---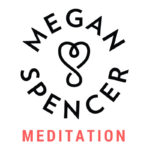 PLEASE NOTE: Mindfulness meditation is not recommended under certain medical or health conditions. This class will involve some gentle movement and silent introspection.
If you have any queries or concerns about whether this event is suitable for you, please contact Megan on hello@themeganspencer.com, visit this link for further information and/or contact your medical professional.
---
About the teacher
Megan Spencer is a trained mindfulness meditation teacher with a passion for self-care, creativity and empathy. She is also an experienced media arts professional, with over three decades working as a film critic and maker, radio and podcast producer, a writer and more – most of it freelance. (See Megan's full creative bio here).
Having spent much of her working life in the hectic world of making media, Megan's path toward slowing down and hitting the pause button came after a work-related health issue in 2009, caused by sustained stress.
She has been practicing meditation ever since and teaching it since 2015, first learning Mindfulness-Based Stillness Meditation at The Gawler Foundation in Australia.
Her subsequent and numerous mindfulness studies, courses, teacher-trainings and retreats (secular and Buddhist) have taken her around Australia and to Europe. These include Mindful Self-Compassion Teacher Training (Step I) and Breathworks Teacher Training (TTi).
Megan has taught meditation privately and publicly in a wide range of settings, including at The School of Life (Australia and Germany), Paypal Berlin and closer to home at Fleurieu Arthouse and in the Aldinga Arts Eco-Village in South Australia.  She teaches both online and in-person, from drop-in groups, sangha and workshops to courses, 1:1 custom programs and leading online meditations.
Megan's teaching is personable, practical, professional and compassionate. Her cross-media creative practice is diverse and she is a highly experienced public speaker.
Megan is a registered member with the Meditation Association of Australia and a former board member (August 2019 – August 2020). Her teaching practice is Megan Spencer Meditation. Connect with her on Facebook.