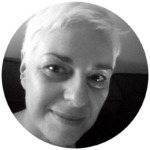 Hello Meditation Friends!
Greetings from rainy old Berlin! A while since I've written: it's been an intense few months of learning. I've waited so as to share my reflections in this combined June/July issue.
In April I mentioned that I undertook Mindful Self-Compassion Teacher Training in Australia. A couple of weeks ago I also completed an 8-week MBSR course (Mindfulness-Based Stress Reduction) in Berlin. This has instigated another shift in my personal practice and professional development.
---
MBSR
So nice I took it twice!
It's true! I did two MBSR courses simultaneously: one as a "student-student", the other in the role of "student/teaching assistant".
While I've been an 'unofficial' student of MBSR founder Jon Kabat-Zinn's for quite some time (devouring his books and online resources), this was my first 'official' experience as a student of the 8-week MBSR curriculum he developed in the 70s at the U-Mass Medical School. I was taught by my friend and teaching colleague Signe Glahn in her first time out as a qualified MBSR teacher. (Congrats Signe!)
More an 8-week meditation intensive, it's said that the course is very much like "bringing the retreat experience into your everyday life". I agree! The benefits show up swiftly and in the most interesting of ways, especially when it comes to 'being present' with our bodies…
Suffice to say I learned much about my own meditation practice (wrestling with the old chestnut of 'resistance', diving deeper into 'stillness') and my own teaching practice (I'm a better teacher for it). The MBSR curriculum has given me yet another perspective on meditation and its tangible, experiential benefits, the 'take home' message of course again being,  just – keep – practicing!
LIFE IS THE PRACTICE
So it's July, and I find myself on a few days break near a beautiful beach to celebrate my birthday (how lucky am I?!) One morning I wake up without a voice. Nary a warning. Nada. Not able to utter a sound save for a tiny whisper. Some might say "yay, silent retreat!" But not so great if you're in the radio and teaching games as I am.
Alarm bells ring: "aphonia". This has happened to me before but never right before 'a big gig' such as, for example, teaching a four-hour workshop at The School of Life that's been scheduled for ages! That people are paying to attend. Next Saturday. Yep.
What will I do if my voice doesn't come back? Here comes my old mate, ANXIETY…
As it turns out my voice, while it did partially return close to the date, was nowhere near up to the job. In terrible shape, weak, constant coughing degrading it even further. One foot forward, two steps back. Speaking limited to short bursts NOT four hours of continual talking. It wouldn't go the distance.
No choice.
Surrender.
Had. To. Cancel.
"Life gives us exactly what we need to practice" our teachers tell us. Right-o then. Let's sit with 'what is' this week… Not. Much. Fun.
First I sit with Anxiety: the doubt of not knowing whether or not I'd be better in time. Of having no control over the situation. Of seeing my perfectionist tendencies creep into the inner dialogue. Me to me: "But you have to do this!" "You'll let people down." "You've failed". Making a friend of anxiety…
What does anxiety feel like?
Then, Impatience. "Hurry up and get better!" Hurry up and give me the outcome I want!" "Now!"
What does impatience feel like?
Once the decision had been made to cancel, I sit with Disappointment:  "Oh no, it's not going ahead!" "You won't be able to work after all that planning, promo and diligence!" "You've looked forward to this for so long." Surrendering to ill health. Making an appointment with disappointment…
What does disappointment feel like?
Finally, Self-Compassion, the antidote to beating myself up, much-needed after days of doing so, the thing we do when plans go awry.  The only way to survive crushing our own spirits from within. "Yes, it's happening, you are actually ill." "This happens every day to people just like you." You're not a machine, you are flesh and blood."
Kinder now: "Good on you for looking after yourself." "Your voice would have been shredded afterwards even if you'd pushed through, which could set your recovery back even further."
Then, rest, sweet rest. Sleep. So needed.
Silent retreat.
Self Compassion defeats Harsh Inner Critic.
Not such a big deal perhaps? Maybe. But for me – a "high achiever", a worker, self-starter, "the good girl", "brave girl" with soldiering on hard-wired into her DNA – it was. Sound familiar?
And thanks to this mindfulness 'toolbox' I am now in possession of – sitting with what is + self-kindness – the experience transformed from difficult to rewarding – one of self-learning and 'watching': the ups, the downs, the reality. Observing what went on in in my mind when things didn't go my way. Feeling the instinct to beat myself up ebb and flow. Then finally ebb.
There it is again: the recurring realisation that for the most part life happens to us. We can't control it. (Why do we even think we can?!) But we can find a way to hold the hurdles and obstacles more lightly and kindly. Which is, in the end, what I did. Just sitting with life as it unfolded, for better, worse or otherwise.
This is life. This is living. This is what meditation teaches us. This is what meditation teaches me.
So, how was your week?!
---
EVENTS
BERLIN | The School of Life
The School of Life Berlin has announced another date for my half-day 'Mindfulness and Meditation At Work' workshop: Saturday 7 October at the School in Prenzlauerberg.
Earlybird tickets are now on sale. And anyone holding tickets for the cancelled workshop on July 22 is able to transfer to this date! Full details and tickets are at this link. Or email: berlin@theschoolof life.com
BERLIN | Open Your Heart Day Retreat
You might remember in January Signe and I ran a Day Retreat. Due to high interest we've decided to run it again. It will be from 10-16hr, Saturday 23 September at the same beautiful venue in Kreuzberg. Presented in English, this is a day of gentle reflection and guided meditation practices (both seated and moving). And importantly, an opportunity to get in touch with the need for inner stillness and reflection that we all carry but rarely make time for.
Tickets are 55€ per person (lunch included). Registrations are by email. Full details are at this link, with terms and conditions here. Suit beginners and experienced. Places are limited – don't miss out!
BERLIN & AUSTRALIA | Workshops
No sooner did I cancel my workshop (see earlier), fortune smiled upon me! A small business got in touch to inquire about the possibility of a workshop "custom-made" for their needs. (In this case, finding the mental spaciousness needed to access creativity and 'flow', time management, maintaining productivity and motivation, team building and managing the relentless demands of 'busy'.)
Designing a mindfulness workshop or event just for YOU is one of my favorite things to do! If you'd like to explore this possibility – be it for your team, employees, company, organisation or for yourself and/or friends – get in touch! Priced to suit your budget, each package includes an initial meeting to discuss your specific needs in detail. Regular guided meditation drop-in meetings and sangha groups are also options worth exploring for your organisation or friend group.
Interested? Email me here.
PODCAST NEWS
Since last writing I've hatched another two episodes of Auspicious Plastic.
Perhaps you're thinking a podcast about 'material stuff' is about as far away as you can get from from mindfulness? These two episodes might surprise: in EP5 sustainability officer Amy talks about her 'love-hate' relationship with plastic (yet how she cherishes vintage Tupperware). And EP6 sees culture journalist Sarah discuss why it's so important to not love things but people. I hope you'll listen and enjoy.
Subscribe on iTunes and discover the latest episodes by liking the Auspicious Plastic Facebook page. Plus, the stories from Three Wicked Women – the podcast series I co-hosted and produced last year – are now individually online. More here.
RECOMMENDATIONS
For my birthday Signe kindly gave me a beautiful book, Heal Thyself: Lessons in Mindfulness in Medicine by Saki Santorelli. Written for other health professionals from the wealth of his experience as a veteran (and pioneering) MBSR teacher, it's a beautiful read for anyone who practices mindfulness: personal, poetic, profound and practical.
And while researching my own workshop about the benefits of bringing mindfulness to work, I came across this excellent interview about compassion in the workplace. It's with Monica C. Worline, co-author of the book Awakening Compassion At Work, soon to make my reading list!
---
Over the next couple of months I'll be pretty busy packing down my life in Berlin, saying goodbyes and returning home to Australia. So there might not be another e-news for a wee while. Speak to you again once the dust settles, I've landed on solid ground, and when there's fresh news to tell…
Until then, be kind to yourself!